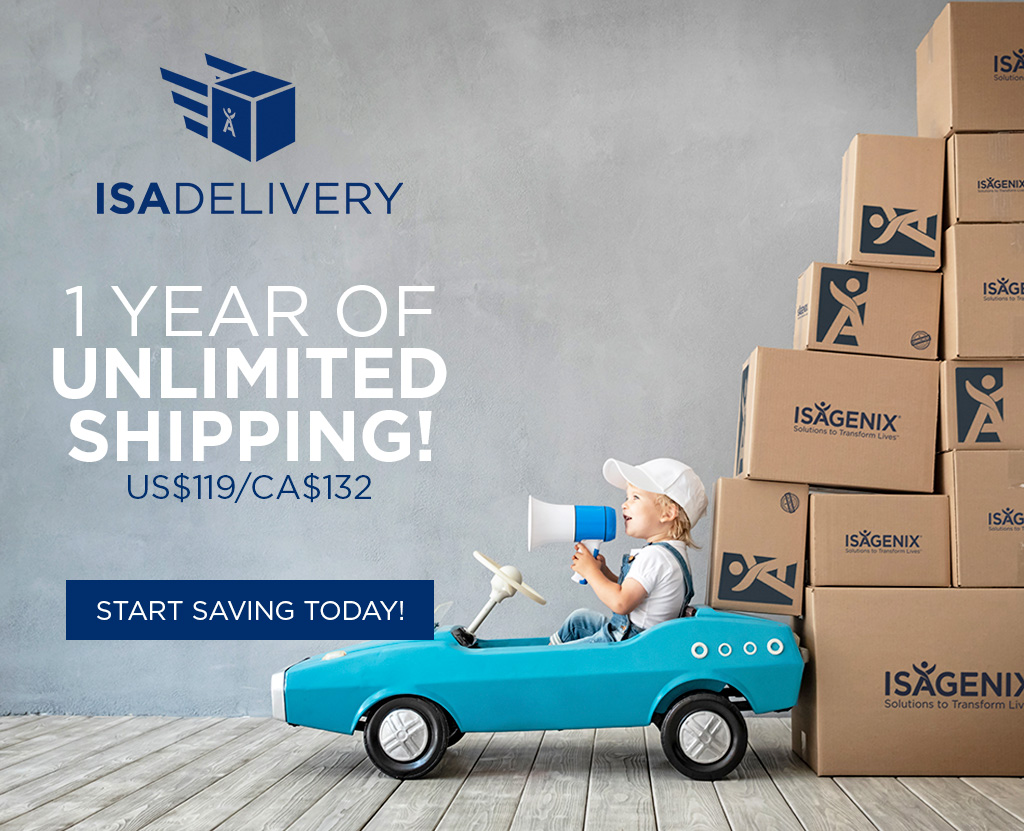 IsaDelivery™  is here to give you convenient, easy-to-use access to standard ground shipping for one year so you can order the products you want, when you want them — all without the hassle of purchase minimums or a limit on the number of uses.  Order products and focus on nutrition for you and your family. It's that easy with IsaDelivery.
UNLIMITED SHIPPING
With IsaDelivery, order any product at any time to have it shipped to your front door. That means you can be among the first to order new limited-edition flavors or order extra products after a vacation without having to worry about the cost of shipping.
MORE SAVINGS
Simply put, you can save money when you use IsaDelivery. Just one shipment per month can more than pay for IsaDelivery through the year.* Plus, in addition standard ground shipping cost on products, IsaDelivery also waives the cost of summer cooler fees.
NUTRITION FOR YOUR FAMILY
Nothing should stand between your family and access to excellent nutrition, especially a shipping fee. IsaDelivery  ensures that you and your family order what you need, when you need it. The money you can save using IsaDelivery can even contribute to better nutrition for your home.
CONVENIENCE AND EASE
IsaDelivery works in the background so you can concentrate on your products and nutrition. Once you have it, you can enjoy it for the year.
IsaDelivery is just US$119/CA$132 for one year of unlimited standard ground shipping for Lifestyle Rewards (Autoship) members.
Customers who purchase IsaDelivery will have the cost of standard ground shipping waived for one full year beginning on the date of purchase. No minimum purchase required for IsaDelivery. May be applied to wholesale or Lifestyle Rewards orders. Must be a Lifestyle Rewards member to purchase.
See terms and conditions for full details.
*Based on shipping costs for product orders of $50 or more.
Frequently Asked Questions
Isagenix is offering its Members in the United States, Canada, and Puerto Rico the opportunity to participate in the IsaDelivery shipping option. Under this option, Isagenix will waive standard ground shipping costs of qualifying orders for standard ground shipping. Members who purchase IsaDelivery will receive standard ground shipping on Isagenix product orders that are placed within twelve months after the IsaDelivery purchasedate. The cost for one year of IsaDelivery is $119.00 US/PR and $132.00 Canada. The cost is non-refundable except as expressly set forth in these Terms. You may cancel your IsaDelivery purchase within three business days (ten days in Canada) after purchase. In that case, we will refund the purchase price; provided that we may charge you (or withhold from your refund) the value of IsaDelivery benefits used during this three-day (or ten-day) period. Participation and benefits automatically expire twelve months after the purchase date of IsaDelivery. Quantity and shipping address limitations may apply. Shipments must be to addresses or PO Boxes in the 13 Canadian Provinces/Territories, the 50 United States, Washington, D.C., Puerto Rico, or to APO/FPO addresses with valid U.S. Zip codes. Shipments to other destinations are ineligible. Shipping times may vary and are not guaranteed.
IsaDelivery is available for a one-time purchase per Membership account or business center only and cannot be combined with any other shipping offers. We reserve the right to refuse IsaDelivery purchase and participation in our discretion. IsaDelivery is non-transferrable and non-assignable and has no cash equivalent. No substitutions permitted. Taxes may apply to the cost of IsaDelivery and/or the reduced shipping charges and are the responsibility of the Member. Isagenix may change the qualifications and may cancel or terminate the offer or participation at any time without notice. If we cancel or terminate, we will give purchasers a prorated refund based on the number of shipments received. However, we will not give any refund for terminations related to conduct that we determine, in our discretion, violates these terms or any applicable law, or involves fraud or misuse of the IsaDelivery service. We reserve the right to clarify terms and conditions and to correct omissions, inaccuracies, and typographical errors. Cost of IsaDelivery is subject to change. Void where prohibited. To the fullest extent permitted by law, Isagenix's total liability, whether in contract, warranty, tort (including negligence) or otherwise, will not exceed the cost you paid for IsaDelivery.