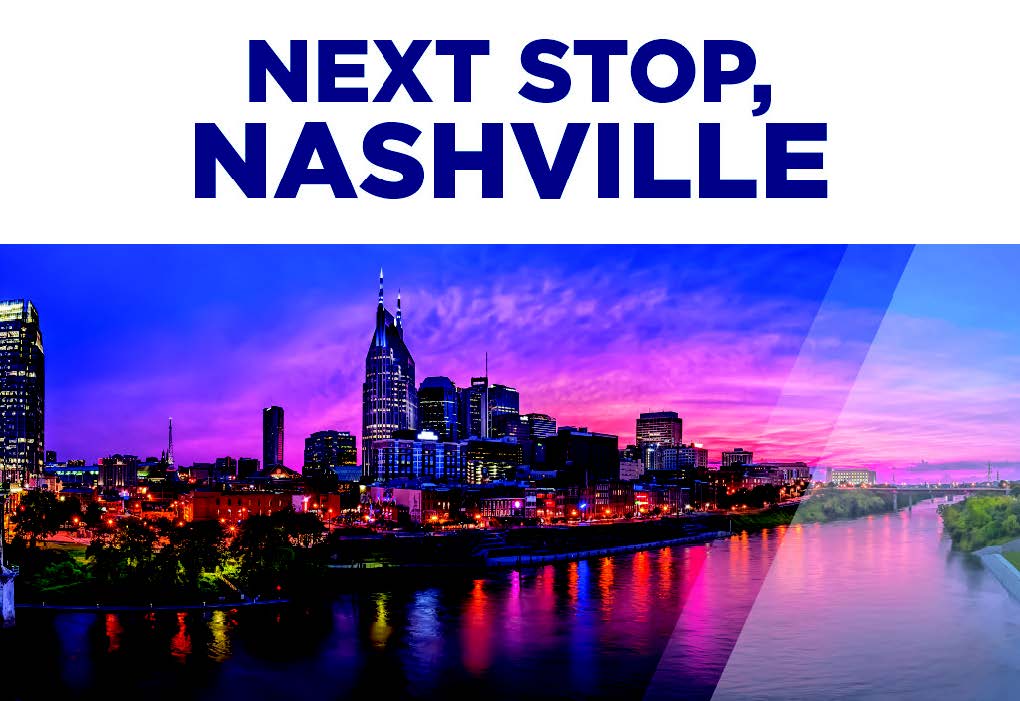 DATES TO REMEMBER
Promotion Period: April 29-June 9, 2019*
Qualifier Announcement: June 19, 2019
BE A PART OF THE ISAGENIX SCENE IN NASHVILLE!
Got the blues? Well, that's not a bad thing if you're headed to Nashville, Tennessee, with us for Global Celebration August 2019. We're taking over Music City, and you'll want to be a part of all the action. Need a place to stay while you're there? We've got you covered with this exciting new promotion. So, get your boots strapped on, and come along for the ride!
WHAT YOU NEED TO KNOW
Be one of the top 300 enrollers from April 29 through June 9, 2019,  and win the ultimate Global Celebration experience!
Personally enroll new Customers with an initial order of 100 BV or more to count towards this promotion. You'll also need to have a Global Celebration 2019 ticket purchased by June 9, 2019, to participate.
WHAT YOU'LL WIN
Four nights of hotel accommodations at the Sheraton Grand Nashville Downtown.

$100 credit to use in the World of Isagenix store on-site at Global Celebration 2019.

An experience you'll never forget!
Y'all ready? Good luck, and see you in Nashville for the biggest and best Isagenix event yet!
*The Next Stop, Nashville contest is open to all Isagenix Independent Associates in the United States (including Puerto Rico). Isagenix reserves the right to audit, adjust, or deny any volume, compensation, recognition, or other incentives awarded during or as a result of this promotion to ensure the spirit of the promotion is achieved. Qualifications are subject to change by Isagenix at any time without prior notice. The value of nonmonetary awards such as accommodations and tickets may be reported as taxable income. Consult with your tax professional to ensure income is properly reported. Unless otherwise stated, awards are nontransferable and will not have a cash equivalent. You must maintain active Isagenix Independent Associate status and be in good standing as of the date of travel to receivethe incentives from this promotion. For full terms and conditions, see Official Rules.
Isagenix invites all North America Associates to earn points for a spot in the Isagenix Next Stop, Nashville Contest! The Isagenix Next Stop, Nashville Contest is governed by these rules ("Official Rules"). The incentive trip ("Travel Prize") is scheduled to take place at the Sheraton Grand Nashville Downtown between Aug. 10- 13, 2019 (the hotel, locations, and schedules are subject to change).
Contest Period: The Isagenix Next Stop, Nashville Contest ("Contest") begins April 29, 2019, at 12 a.m. Eastern Time ("ET") and ends June 9, 2019, at 11:59 p.m. ET ("Contest Period").
Associate Eligibility: To participate in the Contest and qualify to win a reward, you must be an Isagenix Associate living in the United States (including Puerto Rico), in good standing, and in compliance with the Isagenix Independent Associate Policies and Procedures at all times during the Contest Period, at the time any Contest Points are awarded, and prior to the end of the Contest Period, have a ticket for Global Celebration 2019 assigned to that account (collectively, a "Qualified Associate").
How to Register: No registration required. Associates that are eligible to earn points toward the Contest will automatically do so.
How to Earn Contest Points: Subject to the terms, conditions, and limitations herein and verification by Isagenix, Isagenix is offering the opportunity to qualify to earn points toward the Contest ("Points" or "Contest Points") by enrolling new Customers with a minimum qualifying order.
New Personally Enrolled Customers (PE) is the number of New Personally Enrolled Customers who joined Isagenix and made an initial product purchase of 100 BV or more. Only the Enrolling Sponsor for the New Personally Enrolled Customer is credited for a New Customer order.
Isagenix may in its discretion offer incentives or promotions during the Contest Period that may increase the number of points an Associate can earn. Contest Points are awarded only to the Qualified Associate who earned the Contest Points. Contest Points have no cash or other monetary value. Contest Points may not be transferred, gifted, or sold to any other person.
THE TOP 300 POINT EARNERS WILL RECEIVE:
$100 credit to use at the World of Isagenix at Global Celebration 2019.
Four-night stay at the Sheraton Grand Nashville Downtown between Aug. 10-13, 2019.
Isagenix reserves the right to modify or substitute an existing prize and/or to add additional prizes. If a prize is refused or the reward recipient selected is not eligible, it will be forfeited and may be awarded to an alternate potential reward recipient from all qualified eligible entries received.
Travel must occur at the dates and times specified by Isagenix. Isagenix will assign accommodations. Reward recipients and guests are solely responsible for any and all costs, other than those specifically
stated in these Official Rules, that may be incurred or arise as a result of the reward and Contest. Such
costs may include, but are not limited to, all federal, state, provincial, territorial, municipal, local, or other government or quasi-governmental taxes and fees, fuel supplement charges, travel insurance, air and ground transportation, and items of a personal nature (i.e., additional excursions, passport fees, gratuities, alcoholic beverages, photographs, some entertainment, service fees, medical services, etc.). Reward recipients and guests are responsible for all travel documents (such as, but not limited to a passport and/or visa) required for international travel, if applicable. The Travel Prize provided is subject to the terms and conditions in the applicable hotel's and vendors' requirements and policies. Reward recipient and guest may be required to sign a waiver of liability prior to being allowed to participate in certain activities. No compensation will be made in the event of the cancellation or delay of the Travel Prize or transportation. Expenses not specifically and expressly covered by Isagenix are solely the responsibility of the reward recipient and guests.
Reward recipients must arrange and pay for all travel and hotel arrangements not specifically outlined above for him/herself and his/her guest.
Qualification Calculations and Time Frame: Contest Points will be calculated on a monthly basis throughout the Contest Period and displayed in the Associate's online Back Office. Final evaluation of Contest Points and reward recipients and qualifiers for prizes may not be determined until June 16, 2019, to ensure that each potential reward recipient's qualifications do not change, including due to any deduction of Contest Points, whether due to returned product or otherwise.
Affidavit: In the discretion of Isagenix, each potential reward recipient (and his/her travel guest) may
be required to sign and return to Isagenix, within ten (10) days of notice or attempted notice, a prize acceptance agreement and/or an affidavit of eligibility and liability/publicity release, to claim his/her reward. If a potential reward recipient or guest fails to sign and return the prize acceptance agreement and/ or affidavit of eligibility, and liability/publicity release within the required time period, the reward will be forfeited or awarded to an alternate, in Isagenix's sole discretion.
Note: When calculating qualifications for Qualified Associates with more than one (1) Isagenix Associate Business Center, all activity that occurs from various Business Centers will be aggregated and reflected
in the Associate's primary Business Center for purposes of determining Contest Qualifications set forth herein. Only primary Isagenix Associate Business Centers are eligible to receive the rewards set forth herein; Isagenix Associate Business Centers outside of the primary are not eligible to receive any rewards.
Verification: Contest rewards will be awarded to potential winning Qualified Associates following verification by Isagenix in its sole discretion of all requirements and qualifications in these Official Rules, and provided that such potential winning Qualified Associates meet the definition of "Qualified Associate" and all other terms and conditions herein. Failure to meet any of these requirements or qualifications will result in forfeiture of all Contest Points and rewards, in the sole and absolute discretion of Isagenix. Once verified by Isagenix, Qualified Associates who earn rewards listed herein may apply or redeem (as applicable) such rewards as instructed by Isagenix. As stated above, to receive any rewards listed herein, you must properly register for and attend the Travel Prize, and comply at all times with all terms and conditions of Isagenix
and relating to the Travel Prize. Expenses, costs, or fees that are not otherwise expressly stated above, including any and all applicable planning and/or other expenses, taxes, fees, activities, excursions, insurance premiums, or other costs arising from or related to the reward(s), the Travel Prize or any alternative or extended travel plans are not included and are the sole responsibility of the reward recipient. Rewards are not transferable. No reward substitutions are allowed except at the sole discretion of Isagenix, who reserves the right to substitute a reward of equal or similar value. Any and all local, state, or federal taxes are the sole responsibility of reward recipient. Unless expressly stated otherwise by Isagenix in writing, rewards may not be combined with any other Contest, promotion reward, incentive, contest, or other offer.
Who Can Participate: The Contest is open to Qualified Associates who are legal residents of the United States (including its territories) and Canada, who are at least 18 years old, and have valid identification and travel documentation (as approved and required by any governmental authorities) at the time of travel. Employees of Isagenix and their parent and affiliate companies, as well as their immediate household family members (including spouse, parents, siblings, and children, if applicable) are not eligible to participate in the Contest.
Publicity: Except where prohibited, participation in the Contest constitutes each Qualified Associate's consent to Isagenix and its agents' use of any information, video, or testimonial of or provided by you before, during, and/or after your receipt of any reward, including without limitation such Qualified Associate's name, image, likeness, photograph, voice, opinions, and/or hometown, state, and any biographical information for promotional purposes in any media, worldwide, without further payment, consideration, or attribution to
the Associate. As an express condition to an Associate's acceptance of a reward, at the sole discretion of Isagenix, the Associate may be required to provide an on-camera interview to take place before, during, or after the Travel Prize. Associates who are unwilling or unable to provide this interview, will not be eligible to receive their reward, in the sole discretion of Isagenix.
Release: I UNDERSTAND, ACKNOWLEDGE, AND AGREE THAT THE TRAVEL PRIZE AND MY PARTICIPATION IN THE TRAVEL PRIZE AND ANY ACTIVITIES THEREIN MAY HAVE POTENTIALLY SIGNIFICANT AND INHERENT RISKS AND DANGERS THAT NO AMOUNT OF CARE, CAUTION, INSTRUCTION, OR EXPERTISE CAN ELIMINATE. I HEREBY ACKNOWLEDGE AND WILLINGLY, EXPRESSLY, AND VOLUNTARILY ASSUME ALL THESE RISKS, WHICH MAY RANGE FROM MINOR INJURIES (SUCH AS NAUSEA, CUTS, AND BRUISES) TO SEVERE PERSONAL AND/OR BODILY INJURY (SUCH AS SPRAINS, BROKEN BONES, CRIMES, ALCOHOL POISONING, AND HEART ATTACK), OR EVEN DEATH, AS WELL AS DAMAGE TO OR LOSS OF PROPERTY OR PRIVACY, AND ANY RESULTING DAMAGES OR EXPENSES. I AGREE THAT I WILL NOT PARTICIPATE OR BE INVOLVED IN THE ACTIVITIES UNLESS I AM IN THE PROPER PHYSICAL CONDITION (INCLUDING BY OBTAINING PROPER ADVICE FROM MY MEDICAL PROVIDER IF APPLICABLE) AND WILL IMMEDIATELY STOP ANY ACTIVITY IF I FEEL PAIN, DIZZINESS, OR OTHER DISCOMFORT. BY PARTICIPATING IN THE CONTEST OR TRAVEL PRIZE IN ANY WAY, TAKING PART IN ANY ACTIVITIES, OR ACCEPTING ANY REWARD THAT MAY BE AWARDED, YOU RELEASE AND HOLD HARMLESS ISAGENIX WORLDWIDE INC. AND ITS OWNERS, SUBSIDIARIES, AFFILIATES, SUPPLIERS, DISTRIBUTORS, ADVERTISING/PROMOTION AGENCIES, AND REWARD SUPPLIERS, AND EACH OF THEIR RESPECTIVE OFFICERS, DIRECTORS, EMPLOYEES, AND AGENTS (COLLECTIVELY, THE "RELEASED PARTIES") FROM AND AGAINST ANY CLAIM OR CAUSE OF ACTION, INCLUDING, BUT NOT LIMITED TO, PERSONAL INJURY, DEATH, OR DAMAGE TO OR LOSS OF PROPERTY OR PRIVACY ARISING OUT OF PARTICIPATION IN THE CONTEST OR TRAVEL PRIZE, ACTIVITIES, RECEIPT, OR USE OR MISUSE OF ANY REWARD THAT MAY BE AWARDED, OR ANY PUBLICITY ARISING OUT OF THE CONTEST OR TRAVEL PRIZE.
General Conditions: Contest is subject to all applicable federal, state, and local laws and regulations. Void where prohibited by law. By participating in the Contest, participating in the Travel Prize and/or accepting any reward that may be awarded, you confirm your full and unconditional agreement to these Official Rules and the decisions by Isagenix, which are final and binding in all matters related to the Contest. Achieving or accepting any reward that may be awarded in the Contest is contingent upon fulfilling all requirements herein, tax, regulatory, and legal obligations (including completion of any forms required in connection therewith), and any other requirements set forth in these Official Rules, which shall all be at your sole obligation. Travel Prize attendees are responsible for the actions of their respective guests, including such guests' compliance with any and all terms, conditions and rules. Travel Prize guests will be required to sign and return a publicity/liability release and waiver. Isagenix reserves the right to cancel, suspend, and/or modify the Contest, the Travel Prize, or any part of thereof for any reason, including due to force majeure (including an act of terror or war), and if any fraud, technical failure, or any other factor beyond Isagenix's reasonable control impairs the integrity or proper functioning of any Contest in any manner, or for any reason related to the administration of a Contest, as determined by Isagenix in its sole discretion. Isagenix reserves the right in its sole discretion to disqualify any individual it finds to be tampering with the operation of the Contest or to be acting in violation of these Official Rules, the Isagenix Independent Associate Policies and Procedures, or any other Isagenix promotion or in an unsportsmanlike or disruptive manner. The failure by Isagenix to enforce any term of these Official Rules shall not constitute a waiver of that provision or any other provision herein.
Administration, Application, and Interpretation: Whenever Isagenix has the option, right, or responsibility under these Official Rules to take any action or make any decision, judgment or determination, Isagenix has the right to do so (or decide not to do so) in its sole and absolute discretion, for any reason or no reason. Isagenix has the right to apply and interpret these Official Rules and conduct and administer the Contest in any manner it deems appropriate. Any decision by Isagenix regarding the Contest, including eligibility and determination of the reward recipients, shall be final and binding.
Right to Cancel or Modify Contest: Isagenix may cancel or modify the Contest if fraud or technical failures destroy the integrity of the Contest as determined by Isagenix. If, for any reason, the Contest is not capable of running as planned by reason of infection by computer virus, worms, bugs, tampering, unauthorized intervention, fraud, technical failures, network overload (Internet/phone/cellular), or any other causes, which Isagenix deems could corrupt or affect the administration, security, fairness, integrity, or proper conduct of the Contest, Isagenix reserves the right to cancel, terminate, modify, or suspend the Contest or these Official Rules, change the Contest Period, and select alternate reward recipients or take such other Action as Isagenix may deem appropriate.
Limitation of Liability: The Released Parties are not responsible for: (1) any incorrect or inaccurate information, whether caused by you or any other person, printing errors, or by any of the equipment or programming associated with or utilized in the Contest; (2) technical failures of any kind, including, butnot limited to, malfunctions, interruptions, or disconnections in phone lines, cable connections, or network hardware or software; (3) technical or human error which may occur in the administration of the Contest or the processing or calculation of Contest Points, reward notification, and/or reward recipient confirmation; (4) any lost, late, delayed, corrupted, undelivered, or undeliverable Contest communications or reward notifications; (5) any cancellation, suspension, or modification of the Contest or the Travel Prize; or (6) any injury or damage to persons or property, which may be caused, directly or indirectly, in whole or in part, from your participation in the Contest, the Travel Prize, or receipt or use or misuse of any reward that may be awarded. If for any reason a Qualified Associate's Contest Points are confirmed to have been erroneously deleted, lost, or otherwise destroyed or corrupted, the Qualified Associate's sole remedy is to earn additional Contest Points during the Contest Period, provided that if it is not possible to earn additional Contest Points for any reason, including due to discontinuance of the Contest, none shall be awarded.
Disputes: All issues and questions concerning the construction, validity, interpretation, and enforceability of these Official Rules, or the rights and obligations of you and Isagenix in connection with the Contest, shall be governed by, and construed in accordance with, the laws of the State of Arizona, U.S.A., and resolved in Arizona courts, without giving effect to any choice of law or conflict of law rules (whether of the State of Arizona or any other jurisdiction), which would cause the application of the laws of any jurisdiction other than the State of Arizona. You and Isagenix each agree that any action relating to these Official Rules or the rights and obligations of you and Isagenix in connection with the Contest shall exclusively be brought in Maricopa County, Arizona, and each party irrevocably consents to the jurisdiction of the State and Federal courts located in Maricopa County, Arizona. You and Isagenix each expressly waive any objection that it may have based on improper venue or forum non conveniens to the conduct of any such suit or action in any such court.
Except where prohibited, all Contest participants or reward awardees hereby agree that any claims, disputes, or actions of any kind shall be resolved individually, without resort to any form of class action, and waiveall rights to claim indirect, punitive, incidental, or consequential damages, and/or multipliers of damages, and any other damages, other than for actual out-of-pocket expenses incurred as the result of participation in the Contest or acceptance of any reward that may be awarded. The parties hereby agree to waive their respective rights to a jury trial of any claim or cause of action related to or arising out of the Contest. The scope of the waiver is intended to be all-encompassing of any and all disputes that may be filed in any court and that relate to any Contest, including without limitation, contract claims, tort claims, breach of duty claims, and all other common law, regulatory, and statutory claims. In the event of litigation, these Official Rules may be filed as written consent to a trial by court. If any part of these Official Rules is declared invalid or unenforceable by a court of competent jurisdiction, it shall not affect the validity of the balance of these Official Rules.
Privacy Policy: All participants are subject to the Isagenix Privacy Policy accessed through the bottom of Isagenix.com or otherwise posted and updated on the Isagenix website.
Contest Reward Recipients List and Rules: For a list of reward recipients and/or a copy of these Official Rules, send a hand-printed, self-addressed, stamped envelope to "Isagenix Next Stop, Nashville Contest 2019" at 155 E. Rivulon Blvd, Gilbert, AZ 85297. Reward recipients list requests must be received by Dec. 31, 2019.