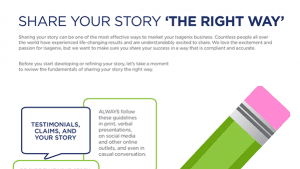 Share Your Story 'The Right Way'
Sharing your story can be one of the most effective ways to market your Isagenix business. Countless people all over the world have experienced life-changing results and are understandably excited to share. We love the excitement and passion for Isagenix, but we want to make sure you share your success in a way that is compliant and accurate.
Before you start developing or refining your story, let's take a moment to review the fundamentals of sharing your story the right way.